18
06
2009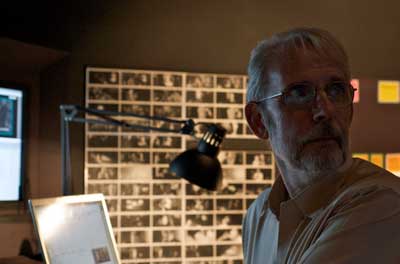 Just got back from the June meeting of the Los Angeles Final Cut Pro Users Group which was, as usual, a blast. Let me tell you what was on the official agenda (and please stick around for my point which follows two paragraphs down).
Andy Neilgave a demonstration of the design capabilities of Motion, two people from Adobediscussed some of the new things in Premiere CS4.1 including the ability to do simpler RED workflow and read VOB files directly without ripping, Bruce Nazarian discussed some of the new developments in Blu-Ray that might make it even usable for most of us, and SmartSound's Stephanie Joyce gave a demonstration of the new Sonicfire Pro Plug in for Final Cut Pro which actually is a major step on the way to simplifying and improving needledrop music.
But let me tell you about the things that were not on the agenda that were even more valuable.
I got to talk to Philip Hodgetts about how his program First Cuts can be integrated into the workflow of an editing room, despite its brute force method of determining editing points. Along the way, we had a great discussion about the various types of editing rooms, editors and clients, and how to teach a new generation of editors who often have more to teach us then we have to teach them.

I chatted with  a representative from, and got to see a demo of Veescope Live, a program which does live keying.
I got to chat with a woman who was an early proponent of digital editing in Los Angeles, who is now a farmer who has recently completed a film about a restaurant owner who has developed a clientele for locally-based produce.
In short, I got involved in a lot of discussions that were more about ideas and breaking boundaries, than about uses for Final Cut.
And this is the great advantage of any user group — whether it is one devoted to Avid, Final Cut, Premiere, the RED, or a group of local basket weavers.
it is the contacts and conversations that will provoke your mind and help you grow, and it is those very things which will make you more and more attractive as a filmmaking collaborator.
I'm sure that you've got a user group near you.  Most of the companies that make the products that you like to use have lists of them on their web sites  Avid, Final Cut Pro, and Premiere (among others) all have active, thriving user groups.
One of the biggest events each year are the Final Cut Pro User Group Supermeets, which attract hundreds and hundreds of rabid fans, who listen to people present, exchange tips and tricks themselves, and vie to win raffle prizes that can reach thousands of dollars. The next Supermeet will be held in London and for those of you who haven't been to one, I'd insist that you go.  To be held on Thursday, June 25th, at the KensingtonConference and Event Centre in London, the FCPUG SuperMeet will feature speakers from major equipment and software manufacturers, filmmakers and a speech by Walter Murch on his work on "Tetro."
This will be an event that you will kicking yourself in the butt for years to come if you miss it. And because it only costs £15.00 to get in, there's virtually no excuse to not go (I will accept the fact that you won't be in Europe as a valid excuse — that will be mine).
But if you're anywhere near London around that time, I guarantee that you'll have a great time meeting tons of great people.
And that is the real value of User Groups. It's how we move forward in this Freelance Editor world of ours.